Post by JORDAN ANDREW DREDD on Oct 24, 2010 22:29:53 GMT -5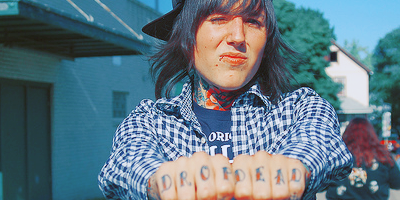 Oh turns some pages, I'll be here when you're ready to roll with the changes,
(
Clothes
)
Jordan grinned as he shut his lap top, he had just made another friend, an online friend to boot. He had always been a very sociable child, put him in a room with anybody and it was just in his nature to befriend them. He recalled one incident when he was a just a kid in grade one, he had been nominated by his teacher to show the two new kids in his class all around the school. Naturally he was happy to oblige, which resulted in him gaining two new bestfriends, who just so happened to have the sixty-four pack of crayola crayons and animal crackers. Needless to say everyone wanted to be his friend after that because he had connections with the kids who had the sixty-four pack of crayola crayons and animal crackers. As he got older he honed the fine art of charming the pants off of people, both in the literal and figurative sense. All he would have to do is slap on a charming smile, flirt a little bit and just say whatever comes to his mind. The only time that his method does not work is when his is inhibited by legal and illegal substances, it just becomes a jumbled mess of 'I want to sleep with you, but I do not want a relationship because I am afraid of those, but let's sleep together anyway. Please.' Thankfully he was not under the influence at the moment and thus would not be at the low point of begging the girl whom he was meeting to sleep with him. Besides, they had all ready established that they were only friends and that this was not a date of any sort. Jordan was okay with that because at the moment he was not interested in any sort of relationship, unless it was a one night stand of course; short and sweet, or saucy.

Shaking his head he stood up and stretched, bending over attempting to touch his toes but giving up upon hearing his back crack. "Ow. Back, why are you hurting me so?" he mumbled to himself as he stalked over to his dresser. He decided that it would be best to throw on some clothes as he was currently only wearing bright orange boxers and a pair of socks to match. Jordan was fairly certain that unlike his new friend he would not be able to go out in public scantily clad and be unscathed. Him wearing just boxers and socks is just not the same as a girl wearing a low cut top and booty shorts; completely unacceptable. Thus he decided on a purple t-shirt and blue skinny jeans. He looked himself over once in the full length mirror on the back of his bedroom door, he was never one for fussing to much with his appearance but he had to be some what presentable for his new friend; whom he had not even gotten a real name from.

Pondering over this name situation he grabbed his phone off his night stand and exited his room. He had given her his name but she had not returned the favor, or at least from what he could recall he did not receive her name; other than her online name. "Wait, what was her online name again?" he pondered aloud while slipping on his purple and black DC high-tops. "Something norman? No, uh AbsNorma?"he paused in the middle of opening his front door to stroke his chin, as if he had some sort of beard. A grin lit up his face as he snapped his finger, he remembered! "AbbyNormal!" he skipped out of his house shutting the door behind him. "Logic dictates that Abby must be her name, or nickname at least." he finished talking to himself while nodding his head, as if that would sum up all his thoughts. He often found himself talking or rather thinking out loud it was just his thing.

Walking along the sidewalk towards Subway he glanced at his phone, various texts from people that he had met at parties littered his inbox. He skimmed through them briefly, any text that was not sent by someone with an actual name was deleted, because honestly he did not really know who 'the kid with the hair' was or why they sent him the message 'blahblahblah, coming out cho mouth wid the blahblahblah'. He really needed to stop giving his phone number to people when he was under the influence.

Slipping his phone into his pocket as he arrived at the Subway, he creeped the see through door window momentarily before going in and snagging a booth. He did not see his new friend anywhere in the premises yet, hopefully she would be arriving soon as he was super excited to actually be hanging out with her. She seemed like an individual that would be fun to be around, what with seeming like she had a personality opposite to him. Hopefully it is true what they say, that opposites attract.
----------------------------------------------
Word Count: 846

Status: Complete

Tag: Abigal/Alice!

Notes: Yay! A little rambley, but w/e